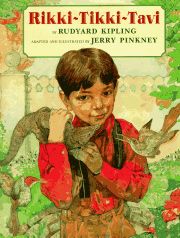 Rikki-tikki-tavi has been getting some heavy rotation these past few weeks.  No, that's not some hip new indie band named after the Rudyard Kipling story.  It is the Rudyard Kipling story.
My three-year old loves a podcast called Storynory.  Natasha does a compelling job with dramatic readings of children's stories and Rikki-tikki-tavi is one of her best.  The story comes as Part One and Part Two.  You can listen online, download the MP3s or just subscribe.  I also like many of the Brothers Grimm Fairy Tales, especially the Golden Fish.
But I think Rikki-tikki-tavi is one of her best because Rikki comes off as the lethal assassin of cobras that he is, and not some adorable scamp like the old cartoon.  I love when Nagaina the cobra has the young boy's leg in front of her and she says:
If you move I strike, and if you do not move I strike.
Rikki knows how to deal with Nagaina.  He's one of the most ass-kicking animals since a cat named Parker.