I've been ignoring this site to pay a little attention to TheWaitingListMovie.com.  I added the two film festival "laurels" we've received so far.  I'm still hoping we can add a few more, especially if we can get into a few Oregon festivals later this fall.
I always assumed that a film festival would somehow provide you with a high-resolution image of their official laurel.  Maybe there'd be a ceremony involving togas and white doves.  But apparently, you just download them from a random site and Photoshop the name in.  This gave me an idea for a new game…
Create your own film festival laurel by taking your pet's name and the city you were born in:
Parker (my cat) + Freeport (the town I was born in) = Parker Freeport Film Festival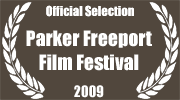 It looks just as good as a real one.  And the Parker Freeport Film Festival takes place in my living room, in front of my cat.
Of course, you could make a film festival laurel with just about any name.  And if you do, please post a link in the comments…