It's been a crazy time for me with this movie stuff.  Which is good and I'm not complaining.  I mean crazy good.
This is more for people who don't already follow my Twitter feed, or aren't fans of the Facebook page for "Did You Kiss Anyone?" or who don't read other blogs like Dave Knows Portland or mile73.  I'm not sure who you are, but I'm totally blogging this for you.  Totally.  (Or you can just scroll through the pictures.)
Did You Kiss Anyone?
On 1/14/2010, we filmed a long scene in an office with three very talented actors: Sibyl, Amanda, and Adrienne.  Coincidentally, Adrienne's last name is also Vogel so we took a picture of The Vogels (Jon, Adrienne, me) looking either tough, grumpy, or like we're waiting in line to use the bathroom on an airplane.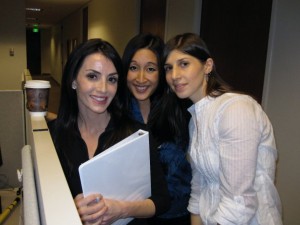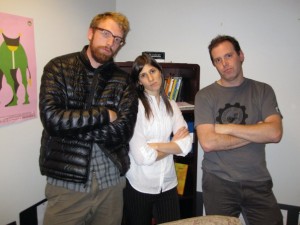 After that fun/exhausting evening, we took two days off and started bright and early on Sunday morning at the New Old Lompoc.  It's called New Old because the Old Lompoc was a bar in a WC Fields movie.  I asked if WC Fields would be in our movie, but apparently he's been dead for 60 years.
It was a bittersweet day because it was the last day to shoot with a very cool and talented guy named Drew Foster.  We also needed extras and Drew brought two friends and a few people you can follow on Twitter showed up too, like: @colewagoner and @ckcofer and @philipwheeler It's hard to get people to wake up and arrive at 7am on a Sunday morning and pretend to be drinking at night.  So I really appreciate everyone who came out.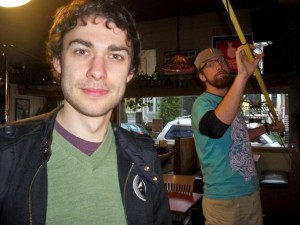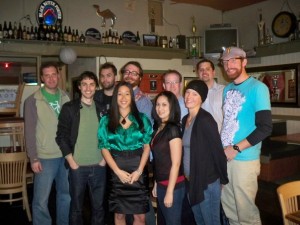 After that, we took a quick break and headed over to the Sellwood Public House to film a very fun scene between Bryce and Mercedes.  One of my favorite inside jokes in The Waiting List is how Mercedes twice tells Bryce to "Please print."  So it was fun to see them act together again as totally different characters (or to quote mile73, a "total slutty slutbag").  The bittersweetness continued because it was also the last day to shoot with Mercedes.  One of the bonuses of that day was having Dave and Heather on set to blog about it here and here.  Well, it would have been a bonus even if they hadn't blogged about it but it's always nice when someone comes and takes nice photos and then you steal those photos to put on your blog (sorry, Heather).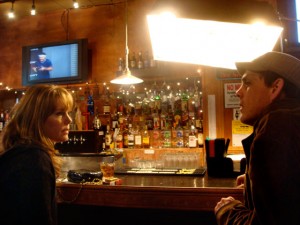 February is going to be a crazy month for Did You Kiss Anyone?  There are still a lot of important scenes to shoot.  It's crazy that we've wrapped some actors yet haven't even seen other actors yet.  So many people are helping out and donating their time and talents to make this movie happen.  I love the energy and enthusiasm of the Portland film scene right now!
Filmed By Bike
It doesn't end there… the past few weeks also brought the news that I've been chosen to be on the jury for the 2010 Filmed By Bike festival!  Last year we made Claire Rides a Bike for the festival and had an insanely awesome time.  The deadline for submitting movies is Feb. 15, 2010 and it's free to enter.  If you aren't the moviemaking type (which you should be because it's fun and you know you really want to) then at least clear your schedule for April 16th 2010 for the street fair.  It's a one-of-a-kind event in a town full of one-of-a-kind events.
But wait, there's more…
The Waiting List is sadly/happily done with its festival circuit.  (It ended on a very positive note when we had our Oregon premiere at the Eugene International Film Festival and won Best Narrative Feature.)  I've been planning the Portland premiere and it will play at the Hollywood Theatre most likely (but not confirmed) on Feburary 18th.  You'll hear more about it, trust me.  But in honor of the Portland screening, I threw together a second trailer that shows The Waiting List is not a family movie (for the people who didn't believe "a foul-mouthed, sex-obsessed, back-stabbing comedy about preschool enrollment.")  Watch it and please plan on coming out if you're in Portland on (most likely) February 18th.  It would be fun to see you, even if we've never met.