Save the date!
February 18th, 2010 at 7:00 PM – Admission: $5
Hollywood Theatre (4122 N.E. Sandy Blvd.)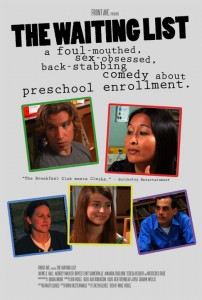 The Waiting List is my first feature and was filmed outside Portland for under $1,500 over three weekends in an elementary school where my brother teaches first grade. It premiered at the 2009 Phoenix Film Festival and went on to win "Best Narrative Feature" at the 2009 Eugene International Film Festival as well as an Audience Award at the 2009 Washougal International Film Festival.
The movie is based on an actual experience I had waiting overnight in a preschool to get my daughter enrolled. Shortly after that, I became a stay-at-home dad for a year, which gave me a completely different perspective on parenting. Those two events form the drama and humor of The Waiting List.
Please don't mistake this for a heartwarming, feel-good family movie. It is a foul-mouthed, sex-obsessed, back-stabbing comedy about preschool enrollment.
The local cast includes:
Jayme S. Hall, Audrey Walker, Bryce Flint-Somerville, Amanda Englund, Teresa Decher, and Mercedes Rose.
We'll be promoting other Portland movies, web series, blogs, artists, podcasts–basically anyone doing their own thing–prior to the screening (more on that in a few days found here). After the movie, there will be a Q&A with some of the actors. Your admission ticket will also enter you in our speed raffle to win stuff, like being one of the first people to own the DVD.  This is not just a screening of some local indie movie you've never heard of… this is going to be a freaking event!