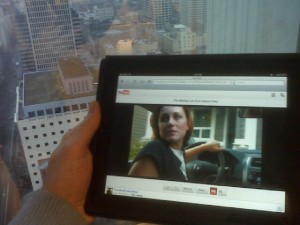 It's pretty clear that traditional indie film distribution is broken. It's even more clear that bitching about it isn't going to make the old days (which I was never a part of) come back. When I made my first movie three years ago, I was hoping to get it on iTunes, Hulu, and Netflix. I didn't even consider theatrical, aside from doing my own screenings.
Here's the problem: no one wants to buy your movie–on DVD, on iTunes, on Amazon, on whatever third party platform is offering a chance to help you sell it. As I write this, a company called Neoflix is going out of business because no one wants to buy indie movies by 250 different filmmakers.
The fact was the Neoflix model was not sustainable unless we had at least 300 filmmakers selling at least 2 films a day. In reality, during Neoflix's best year we had 250 filmmakers selling a combined average daily volume of 80 units, which equated to 0.3 films per day per client. The long tail concept did not track for most clients as most films would receive a burst of sale in the initial weeks or perhaps even months, and tail off sharply thereafter.
I put my movie The Waiting List on IndieFlix because I wanted to have an option for selling it on DVD, and hopefully on iTunes, Hulu, and Netflix. Here's the thing: those other distribution options don't want your non-celebrity, non-famous movie. You can pay a company like Distribber to get your movie on iTunes etc, but that doesn't mean anyone will want to buy it. So you'll just be out another $1,200 plus $75 a year. To put this in perspective for me, the entire budget of The Waiting List was less than what it would cost to use Distribber.
So what are the other options?
I started to think about how I watch movies: Netflix (declined me) or Hulu (declined me) or YouTube (de– wait, I've got movies on YouTube). YouTube is going to be around longer than Neoflix, IndieFlix, hell I'd even say longer than MOVIE THEATERS. So I uploaded my entire feature to YouTube (google how to do this if you didn't know you could).
Here are some immediate benefits:
You can now watch The Waiting List on mobile devices, including iPads (photo above). As new mobile devices and Internet TVs come out, you can guarantee YouTube will support them and I won't need to do anything aside from watch my movie on the latest techtoy.
It's like Netflix Watch Instantly, without requiring a Netflix account.  It's like Hulu without 1,000 pre-roll advertisements. It's like iTunes without the payment, download, and having to use iTunes.
I can link to specific points in the movie. Want to see The Princess Scene or a vulgar take on what people really means when couples say they're trying to have kids?
I can annotate it with a DVD-like commentary (coming soon, maybe, if it's not too annoying).
This is all a freaking dream come true. It's amazing to me that I can even do this. But… but I know you're all business-like and want to point out there's no way to monetize it on YouTube. As opposed to not monetizing it by not selling DVDs or some other form of "units." That's when I had the idea that the concept of selling a piece of entertainment is coming to an end, if not already there. You pay for a theatrical experience. You pay for a Netflix subscription. You don't (or rarely) pay for an individual piece of content. I know I don't. (What's that? You buy individual ebooks for your Kindle?)
I started brainstorming. What do other creatives do? What do bloggers do? Bloggers offer content for free because no one will pay for it. But they put ads on their blog and offer premium services. Getting someone to click on an ad or buy something else they want through an affiliate link can't be impossible, can it? Maybe not lucrative, but better than paying someone to put it on platforms no one will buy it from.
So I fixed up TheWaitingListMovie.com with various types of ads and a pitch as to how you help the filmmakers when you click/buy from the ad. There's a place to buy the toys mentioned in the movie. A place for screenwriting tools. Places to just click an ad and give the filmmakers .03¢ (every tiny amount helps).
The coolest thing (to me) is The .99¢ Screenplay. I created a PDF of the script and linked each scene header to that section of the movie. See how a nano-budget movie went from script to screen. See how things changed, what was left out, what was improvised on set. No one in the history of the world has ever done this before (note: I have not verified this claim, nor wish to be informed if it's incorrect).
I know you've already thought of a million things wrong with this model that you can't wait to point out. Instead of doing that, point out a BETTER solution. If you have a better idea, I'll do that too. I'm not Kevin Smith, I can't rent out Radio City Music Hall and take my movie on the road. But if I could, I would in a second. Right now, the blogging model for indie film distribution seems like the most promising way to get people to see my movie.
The question is… can AdSense ads, affiliate links, and a .99¢ Screenplay help a nano-budget film break even? Make it profitable? Stay tuned….