When you've got a nanobudget movie in a film festival, the marketing costs can quickly approach the same amount as the film's budget. But that's only if you do things like print out postcards people will immediately throw away and make t-shirts or hats that will sit in a dusty corner of a closet. There are a lot of tools out there if you're willing to get creative, and you can be smart about marketing your movie at a festival without spending a lot of money. Here are some things I did for my screening at the Salem Film Festival–it all ended up costing under $40.
Newspaper: One of the first things I did when I found out we got into the festival was send an email press release to @shawnlevy, the film critic for The Oregonian, which is distributed in Salem. I was excited to see the movie title mentioned in the A&E section. (That's the second time this year a movie I directed was mentioned in A&E.)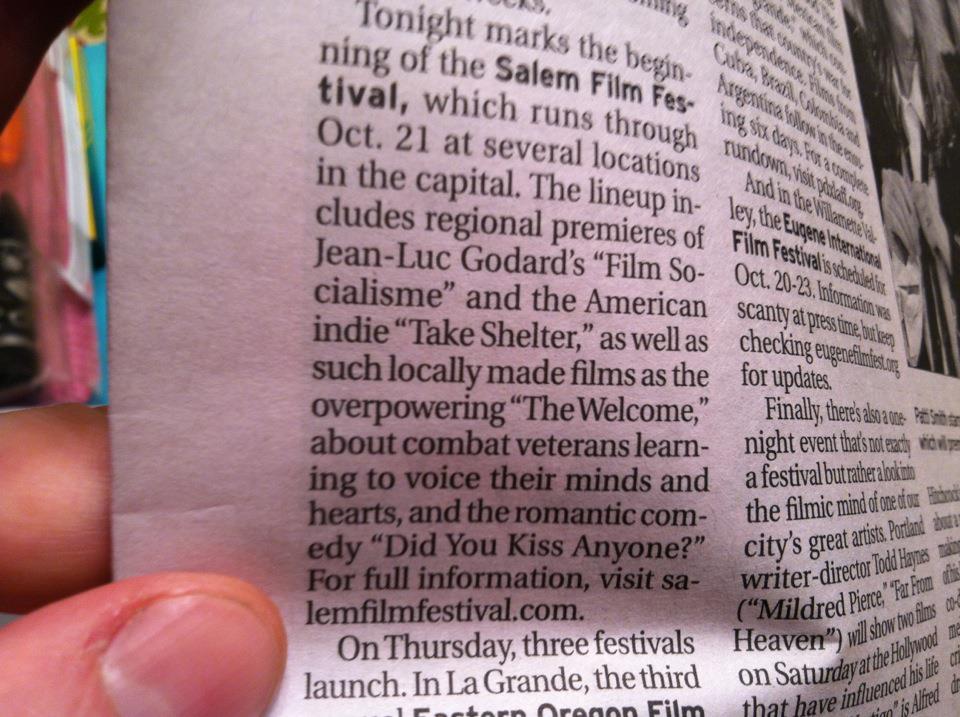 Blog and YouTube video: I don't know much about Salem, but I know they have a giant golden statue. And I recently made a silly video involving talking statues. So I decided to make a ridiculous video for Salem that included all the info for my screening. I posted it to my blog, along with some photoshopped images of the statue in scenes from my movie.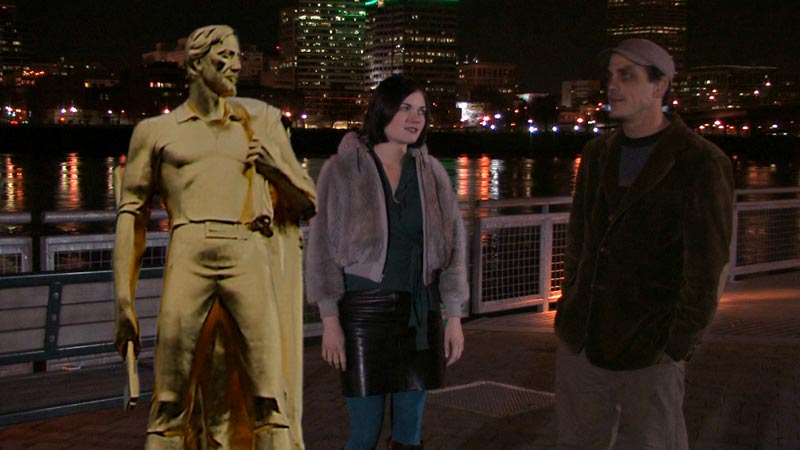 QR Code poster: I drove down to the Salem Film Festival on the Saturday before my screening for one of the festival parties and to put up a couple of homemade printed posters. Printed one-sheets look really nice but they cost a lot of money and I wonder if anyone actually looks at them. I decided to make a poster that wasn't a typical one-sheet and let people watch an exclusive clip if they scanned a QR code. I put this up by the theater exit (also where people would line up for popcorn), as well as on the door a pizza place/bar across the street where some moviegoers go to hang out. I used a bit.ly link for the QR code so I could see how many times it was scanned–not many. Which either means people don't scan QR codes, or people don't look at one-sheets, or both.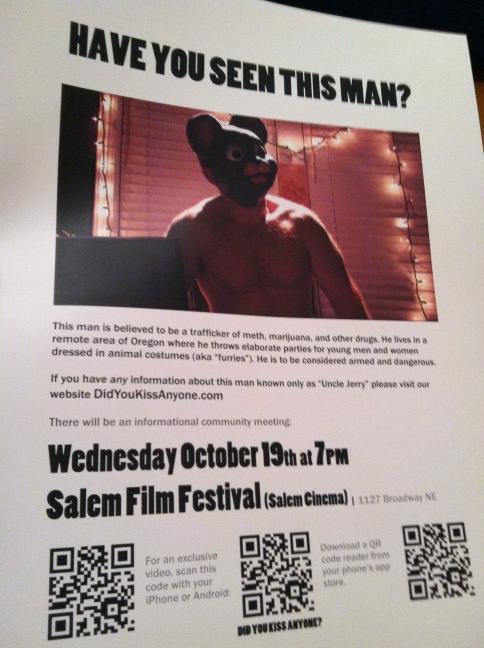 Google Adwords: I wanted people who might attend the film festival to be aware of my movie so I bought keywords on Google. So anytime someone in the Salem/Portland area googled "salem film festival" they would see the name of my movie. I got about 10,000 impressions in two weeks and I was usually in the top ad spot. The AdWords campaign cost $18.92.


Facebook ads: I also created some Facebook ads and targeted people who lived within 10 miles of Salem and liked the Salem Film Festival or a bunch of other movies, actors, and directors. I also set up a few ads targeted at anyone in Salem with a bachelor's degree, in case they weren't the type of people who went around liking things on Facebook.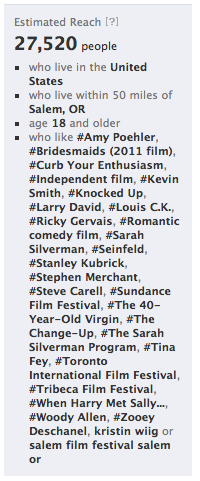 The main campaign was seen by 6,817 individuals (not impressions), they each saw an ad about 12 times, and 664 of those people saw the ad with the name of a friend who liked our Facebook page or RSVPed to our screening event (this is called Social Reach). This campaign cost $10.59.
I did another ad on the day of the screening that was seen by 6,781 individuals, they each saw an ad about 8 times, and 284 of them saw it with Social Reach. This campaign cost $9.92. The total for both Facebook campaigns was $20.51. Here's what the ads looked like…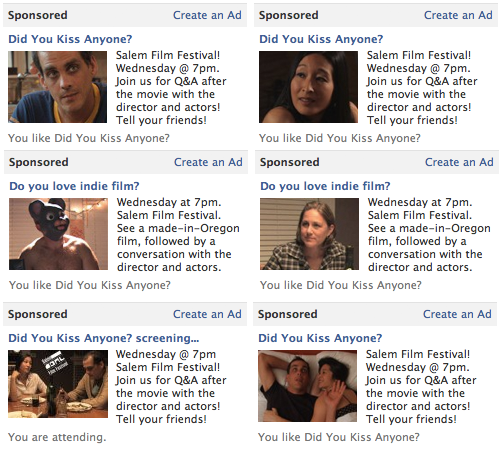 Show up: Actors and crew from the movie drove down for the Q&A. If I were attending a screening at a film festival, I'd want to see someone from the movie there. We had actors, cinematographer, location manager, and me (writer/director). Only the actors and I were up front for the Q&A but everyone else was ready to answer questions too.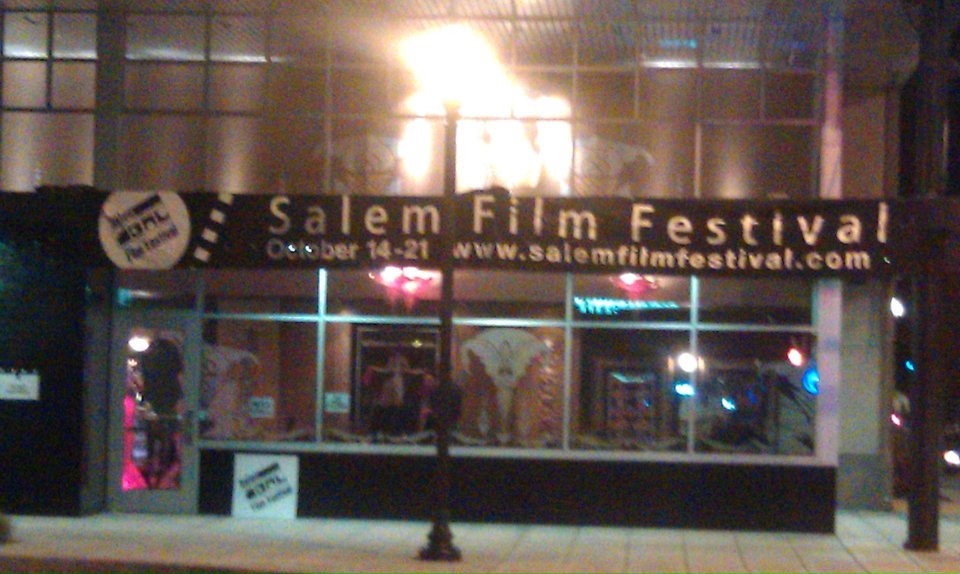 Brian (cinematographer) and Amanda (lead actor)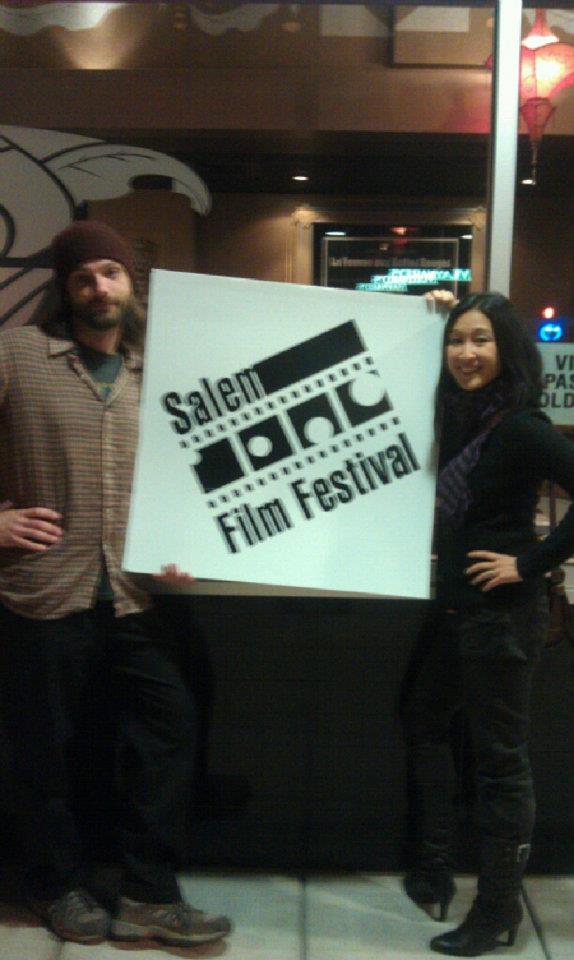 And now for the payoff…

We did a technical check before the screening. This was the first time I'd ever seen Did You Kiss Anyone? projected in a movie theater. It looked great. The screen size is hard to tell from this photo, but you can see the tiny green exit sign to the right for reference.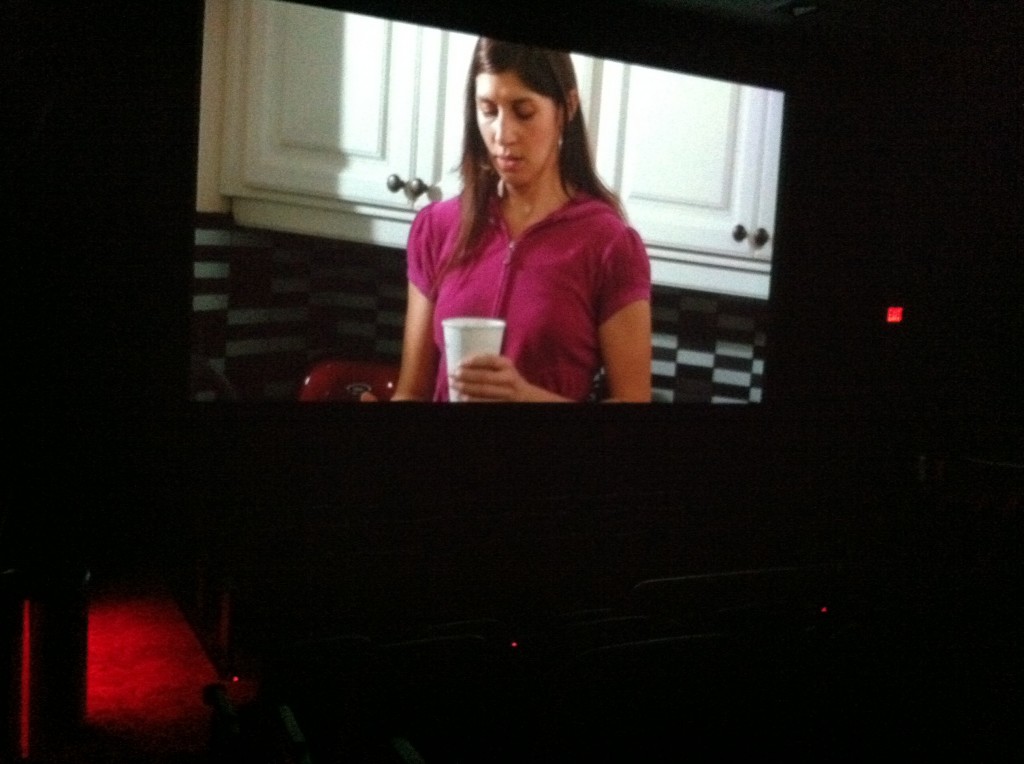 I took this photo while addressing the audience briefly prior to the movie. We had a good sized crowd, even more impressive when you considered it was a Wednesday night. I like to think the $40 I spent helped convince a few of these people to attend.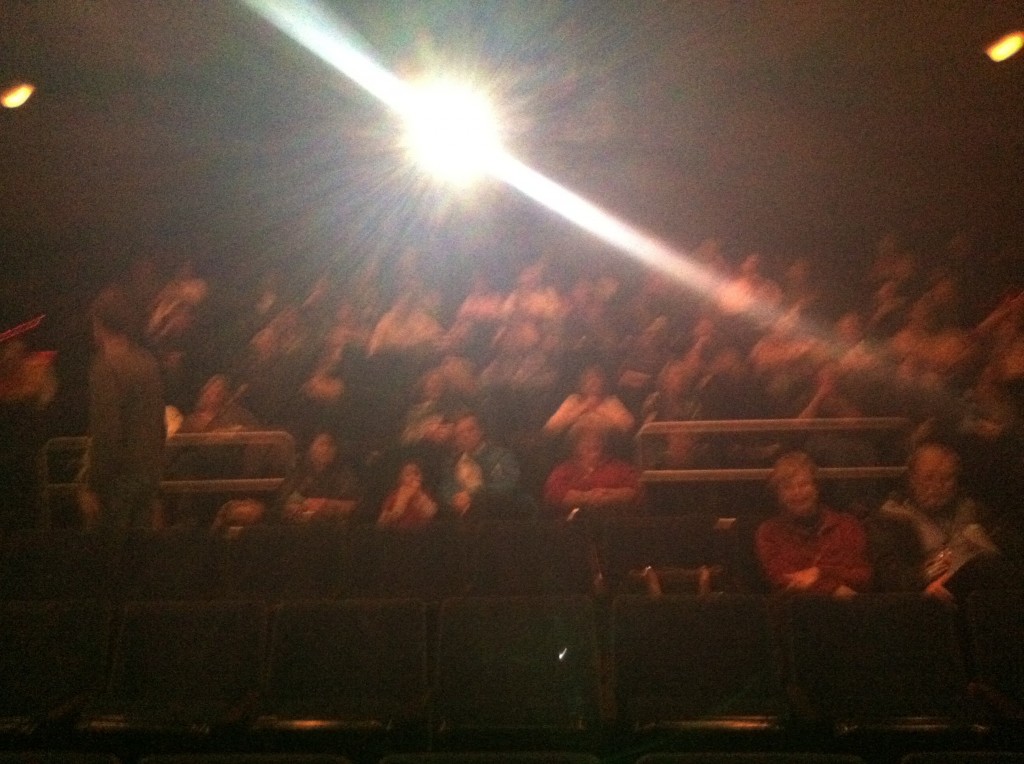 I was relieved when almost everyone stayed afterward for the Q&A. One woman leaving stopped to say she couldn't stay for Q&A but that she loved the movie. That's exactly the first thing you want to hear after showing your movie to an audience.
Bob, Audrey, me, Brian, Amanda after the Q&A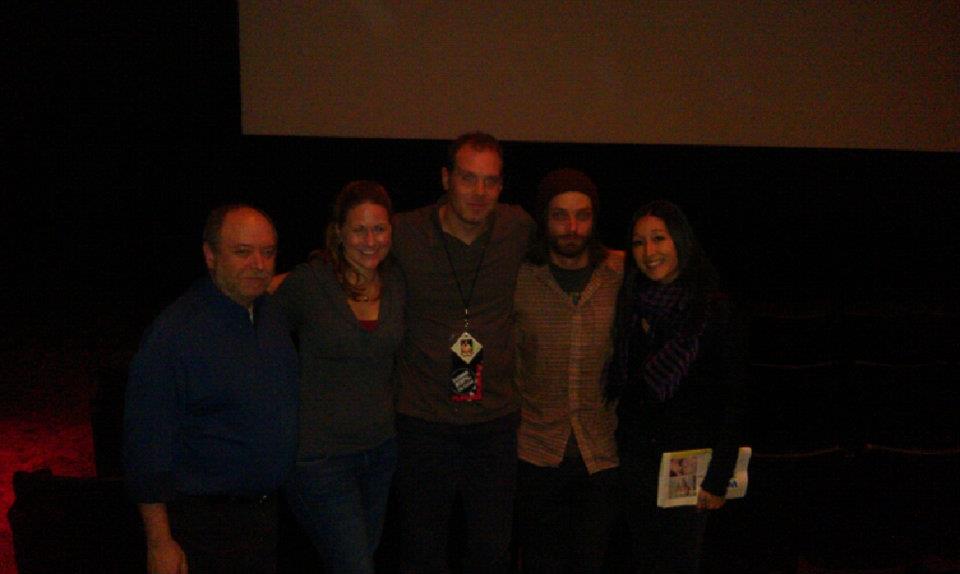 After the Q&A we went out for drinks to celebrate. Four pitchers of beer and a huge order of tots cost more than my entire marketing budget for the festival. Money well spent.
Drew and Bob (actors) (also, the eye of Tamar from Suck My Box.)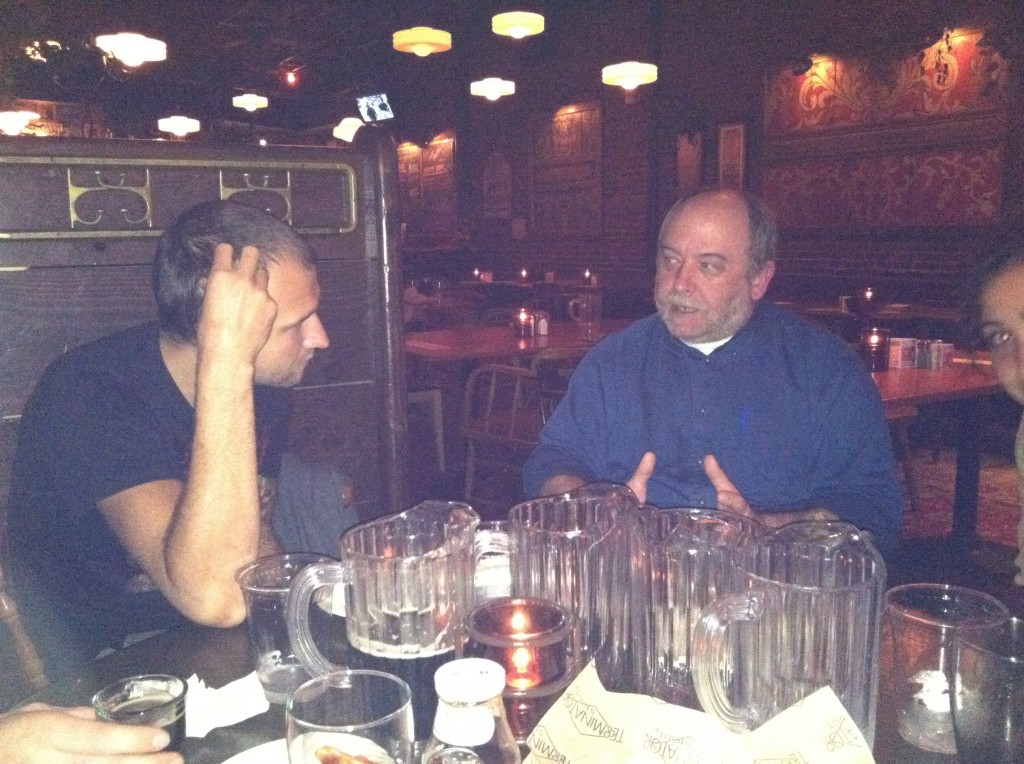 Dani and Brian (location manager & cinematographer) (They look surly because it was dark and I used a flash.)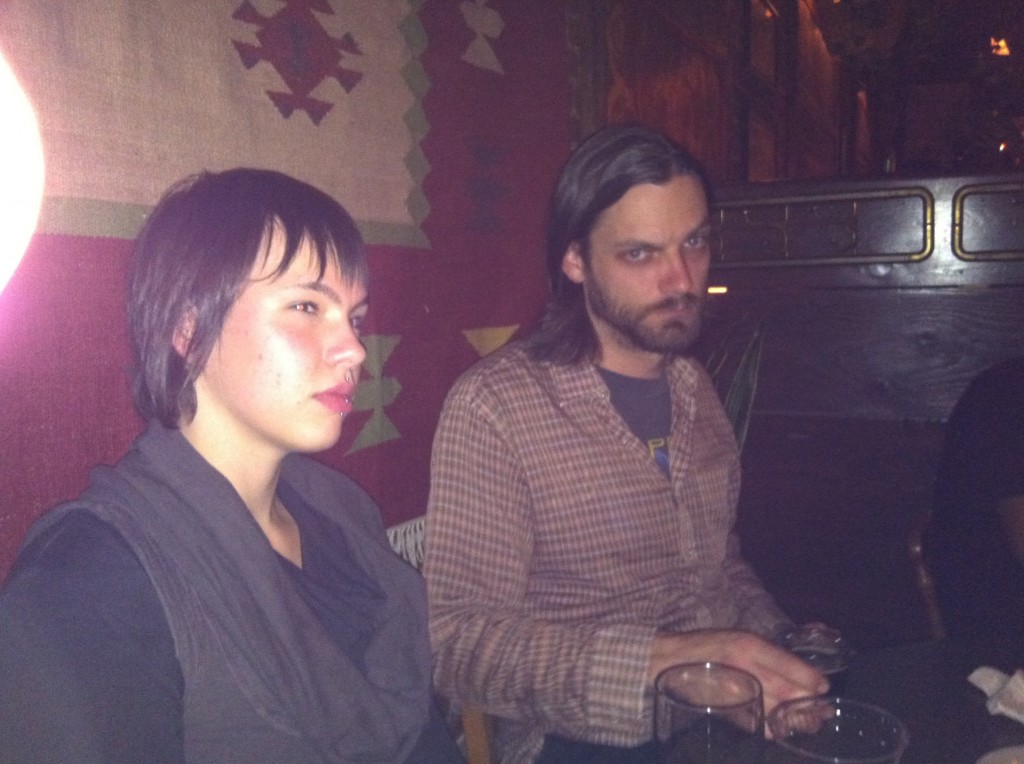 Audrey and Sara (actor and wife)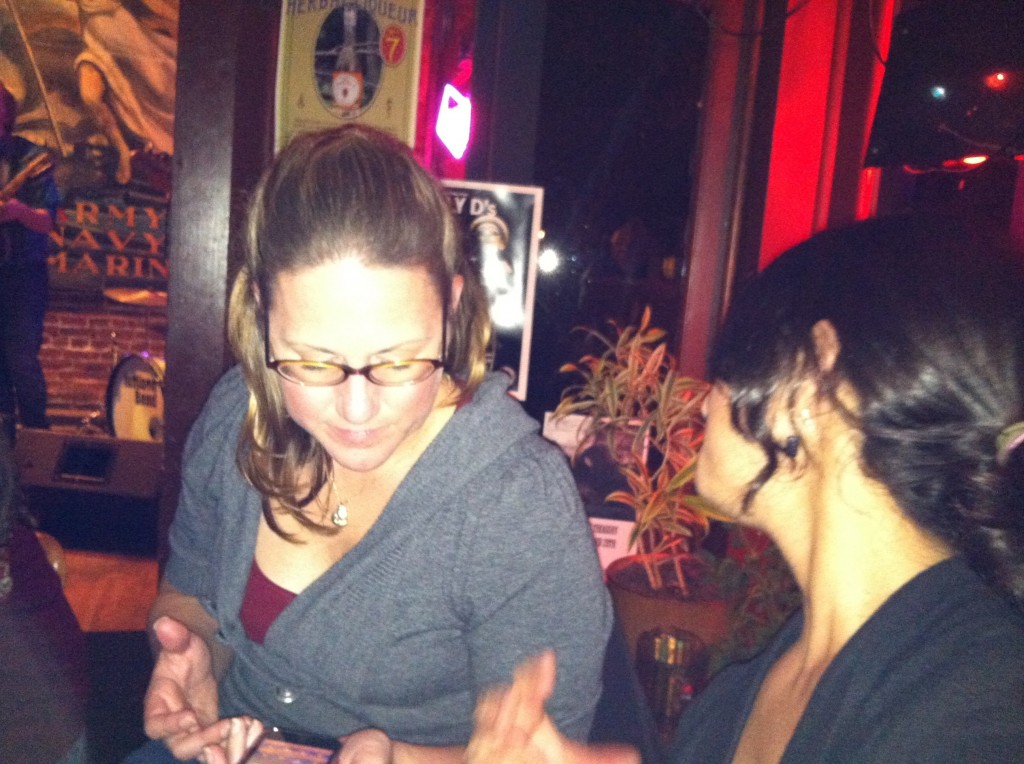 Go check out DidYouKissAnyone.com for more info on the movie. And if you've done something cool to market your nanobudget movie at a film festival, let me know so I can steal your ideas for the next one.