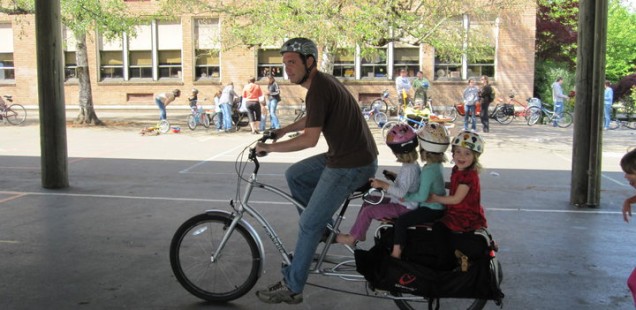 It's time for my favorite film festival in Portland–Filmed By Bike! I throw some kids on the back of a cargo bike every morning to take them to school, then I ride along the Springwater trail to work. But I don't really belong to any part of Portland's famous bike culture. I don't go on organized rides, I'm not on any teams, I smile wistfully at Breakfast on the Bridge but never stop, I don't even read any bike blogs. Not that I'm against those things, I'm just usually thinking about making a movie. So Filmed By Bike is the perfect festival for me: bike enthusiasts combined with film fans.
But some of you might be thinking, "I don't know how to ride a bike, but I want to see movies you've made on a big screen and also drink beer in the street." You are in luck! On Friday the 13th, you can attend the Opening Night Street Party. It's a fun event and you should just go and see what it's all about.
If you can't make it Friday night, there are still plenty of chances to see a movie I've made while drinking beer in a theater. This year's movie (Invincible, starring my daughter in her big screen debut!) plays on all three showings on Friday, Saturday at 5pm, and Sunday at 9pm. What? Not enough for you? Then show up on Wednesday at 7pm or 9pm and see two of my previous Filmed By Bike movies: Claire Rides a Bike and Right Hook.
Here's the full list of all the movies being shown: Filmed By Bike Program
Did I mention the opening night screenings have an awesome raffle? And insanely fun street entertainment? And beer on tap? Also, movies?
Finally, here's a little movie I made from the festival three years ago…