I took a week-long break from Twitter, Facebook, and constantly checking my phone for updates or messages of some kind. Sort of a technology cleanse. By the end of the week, I decided I wasn't getting anything valuable out of Facebook so I closed my account. Facebook is great if you've ever need to advertise something, which I've done for both my job and the movies I make. You can show people ads based on where they live, when their birthday is, how old they are, which specific things they Like, or generally what type of person they are. If you tend to write, comment, and Like updates about tech, entertainment, politics or sports, you have been profiled so advertisers can try to sell you something. This isn't a big deal and it's the same thing Twitter, Google, Apple and Amazon are doing. Facebook is doing it better.
The reason I quit Facebook has more to do with the general vibe of the place. Everything seems to be spun from the land of hopes and dreams and year round New Year's resolutions. People are upbeat, inoffensive, and overly supportive. It's a place without nuance, humor, or challenging ideas. It's important that my inner Holden Caufield still be against the phonies. And, to paraphrase Hemingway, Facebook is a Mecca for bluffers and fakers.
Twitter… we're cool, I still love you.
The other thing that happened after my technology cleanse is that I got an iPad. (Isn't it ironic?) What my iPad changed for me is that I'm getting back into reading longer blog posts instead of just status updates. I'm using Flipboard to keep track of my favorite Portland bloggers like Dave Knows, Robert Wagner, Betsy Whim, Mile73, Attorney At Large, The RRS and others. It's inspired me to post a blogroll again. I tried following blogs mostly through Twitter but I realized reading blogs is more of a focused night time activity for me. Twitter is is sort of a day time background process.
I'm also using my iPad to write. I wasn't sure if the keyboard would be too small, but my fingers love tapping silently on glass way more than pressing clunky buttons on a keyboard.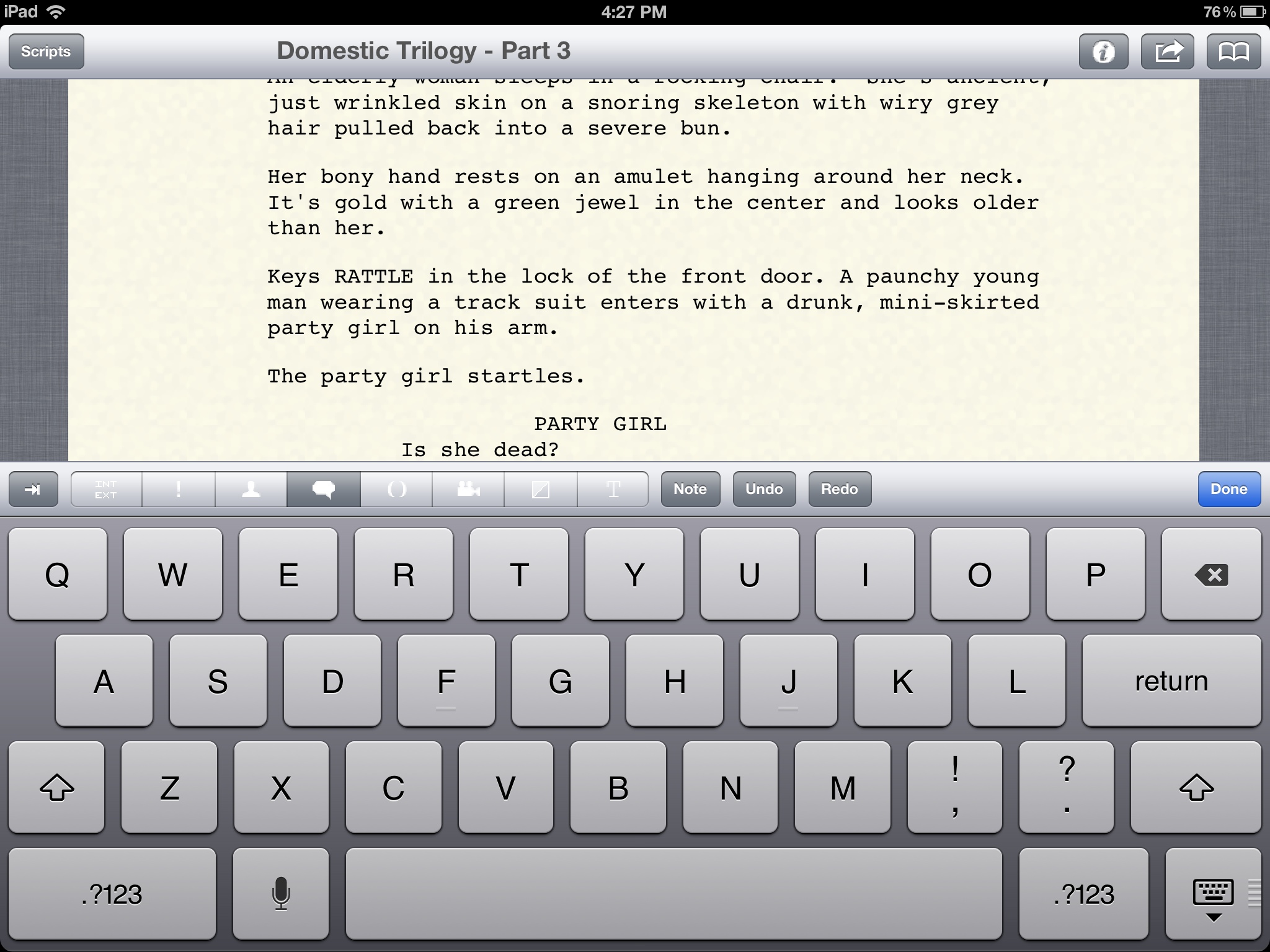 If I had to make a Sophie's choice between my iPhone and iPad, I'd ditch the phone in a second.
I've got a screenplay to write this month. I'm going to try writing the whole thing with Celtx on my iPad. We'll see what happens….