I'm happy/relieved/excited to finally release the second version of my iOS app Phrenic. I've learned a lot since launching it in March (and even more since the initial app rejection in October–long story). What's new? Why should you download it? Why am I making the totally unreasonable demand that you pay .99? First watch the new trailer, then read below…
More Stories, Episodes, and Extras
Now I can add new content without forcing you to install another app update. Just launch Phrenic 2.0 and you'll have the latest story elements and behind-the-scenes extras. This version has a new mini-episode, a new short story, and a way for fans to submit their own content.
Phrenic still does not have push notifications because I hate those and turn them off except for things like Twitter.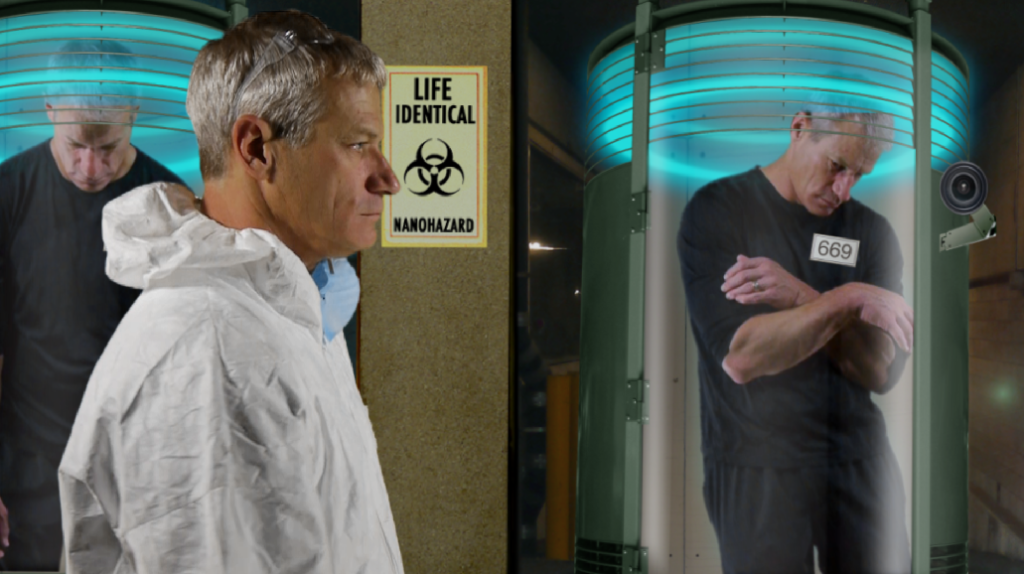 Audience Participation
I get asked about allowing fans to get involved by submitting stories or videos to be included in the world of Phrenic. Not that fans are actually requesting to do those things, but some people think a good transmedia project MUST have audience participation. I was initially skeptical but I'm coming around. There are some risks to opening a project to fan generated content (which I talk about here) but I realized I can let someone else's lawyers worry about that.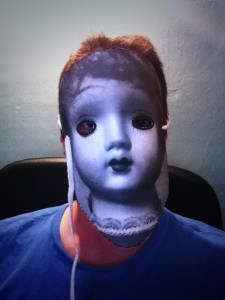 I'm now using Theatrics to allow Phrenic fans to submit videos or other content. To stoke creativity and give people a chance to remain anonymous, I've created a cut-out doll mask where people can disguise themselves and record a video about being a clone (or clone protesters). Approved videos will show up on the Theatrics site, PhrenicWorld, and the iOS app. A rough storyline will launch next week that will make it easy for engaged fans to jump in. If you're thinking of doing it, PLEASE DO!
Here's a picture of me wearing the doll mask….
No More In-App Purchases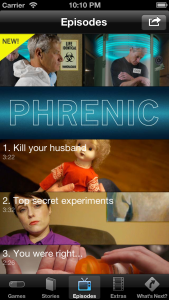 Phrenic 1.0 was free to download and watch episodes 1 & 2, but then it cost money for episodes 3 – 7. What a genius way to keep making money off your audience by releasing more episodes and charging for them! Except people don't like that idea very much and the always-imminent cost becomes a barrier to getting involved in the story. I'm asking for a very small, one-time fee of .99 and I'll give you a new kind of story that I hope you'll enjoy so much that you tell everyone with an iPhone to download Phrenic. I like this model better.
The other reason I got rid of in-app purchases is a technical one. To sell the episodes as IAP, you'd have to download them to your iPhone or iPad. That's fine if it's a pre-determined, finite amount, like a movie or comic book chopped into chapters. But Phrenic is on-going with no end in sight. There wasn't a clean way to delete the in-app purchase episodes and adding more would quickly fill up your device. Phrenic used to be about 45MB before you bought all the episodes, at which point it ballooned up to 165MB or so. The more you watched Phrenic 1.0, the more it bogged down your device. What do you do when an app takes up too much space? Delete it! Phrenic 2.0 is down to 9MB now because all of the episodes are now streamed (which means you'll have to be online–deal with it!)