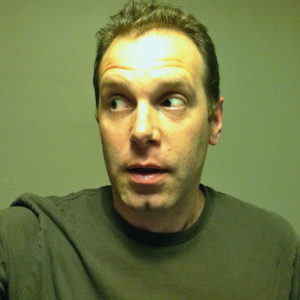 Writer/Director
I am the creator of Phrenic, which you can get free on the App Store. I'm also the writer/director of two feature films "The Waiting List" and "Did You Kiss Anyone?" and the author of the crime-comedy novel "Isn't That Bigamy?"  I made a funny webseries while crowdfunding an indie feature called Did You Cast Anyone?  I also like making bike movies. I sell my movies and book as digital downloads (buy them!). I've got another blog called This Is Transmedia.
Playing around with technology is fun: I've used YouTube annotations as a director's commentary for a feature film and Ustream as an interactive film screening [PBS link]. I've written about turning your movie screening into an event and promoting festival screenings with social advertising. I started selling direct downloads using only WordPress plugins and cloud storage services. I love figuring out the future.
Blogger/YouTube
I started this blog in The Year 2000. You can see the original ones here. I was also traveling the world a lot for work at the time so I made my own pre-Twitter mobile microblogging in 2003 that you can see here.
I post videos to two YouTube channels: my personal one mikevogel and my movie one FrontAveProductions. One of the first videos I uploaded was a mashup of Grand Theft Auto footage and a text-to-speech engine called "Blind Date" and the first time I showed up on camera was "Snowpocalypse Now." I've waterboarded my daughter (not really!).
Interviews & Press
Below are links to the websites of people who have been kind enough to interview me or promote something I'm doing.
Digital Discontent: Phrenic – A Deep Dive Into Madness (March 11, 2013)
PBS MediaShift (February 23, 2012)
Crazy Talk (February 9, 2012)
The Oregonian A&E (February 2, 2012)
Portland Mercury (February 2, 2012)
IFC Portlandia: Spoofing the Spoofers (One Night in Portlandia) (1/12/2012)
Portland Pulp: Portlandia makes a sex tape (11/8/11)
The Frugal Filmmaker Review: The Waiting List (9/16/11)
SMO Books: The Power of Crowdsourcing – Did You Kiss Anyone? (6/12/11)
Dave Knows Portland: Interview – Mike Vogel (4/19/2010) and mile73 too!
Truly Free Film: Make Your Microbudget Film an Event (3/2/2010) – [guest post]
Mile73: Scenes from a Bar – Did You Kiss Anyone? (1/17/10)
Mile73: On the Set of Did You Kiss Anyone? (12/8/09)
Film Snobbery Review: The Waiting List (9/24/09)
KBOO: Eugene International Film Festival Interview (9/24/2009) – [audio]
I show up around 21:25, near the end.
Did You Find Funding Yet?: Funding Your Bliss (8/31/2009)
POD-dy Mouth review: Isn't That Bigamy? (6/13/2005) Needle Award 2005 (3/22/2006)